"Whether you are an experienced tracker seeking to improve your tracking ability, or a novice tracker, intimidated by the left-brained science of conventional tracking, Entering the Mind of the Tracker opens up doorways of new possibilities and exciting opportunities to connect with the story of the land."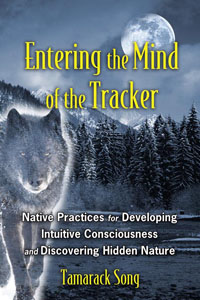 Stepping beyond the shape of a footprint and into the unseen story of the track, veteran wilderness guide Tamarack Song takes you inside the eyes and mind of an intuitive tracker, with intimate stories where frogs show the way out of the woods, scat reveals life histories, and bears demonstrate how to find missing people.

Drawing from his years of surviving in the wild, apprenticing to native elders, and living with a family of wolves, Tamarack reveals how to achieve a level of perception like that of aboriginal trackers by becoming one with the animal you are tracking, whether Fox, Deer, Coyote, or Cougar. Sharing his innermost thoughts while following track and sign, the book's adventures merge technical tracking methods with skills such as shadowing and envisioning, while demonstrating animal-reading skills considered outside the human realm. The author explains how to expand your awareness—to learn from nature by becoming nature—and tap into the intuitive tracking consciousness each of us has inherited from our Paleolithic ancestors.

Through his stories from the trail, Tamarack shows the art of tracking not simply as a skill for hunters and naturalists but as a metaphor for conscious living. By exploring the intricacies of the natural world, we explore not only our connections to the world around us but also our internal landscapes. We learn to better express ourselves and listen, meet our needs and help others. Intuitive tracking provides a path to finding ourselves, becoming one with all life, and restoring humanity's place in the Great Hoop of Life. With a foreword by one of the legendary Shadow Wolves Bryan Nez introducing this collection of real life tracking stories, the book will bring out the tracker in you.

Read the transcript of an interview with Tamarack about how the book came to be.
"To look into the eyes of a wolf," said Aldo Leopold, "is to see your own soul." In the depths of those wild eyes, I found the essence of both wolf and human. I could see we were born to run and hunt side by side, as when we lived in balance with all life. I saw neither a mythic symbol of some idyllic wilderness nor a blood-lusting "varmint." Instead, the brightness of those eyes guided my rebirth as an intuitive tracker. But it was not just wolf, nor did it have to be him. I learned from spider and grouse, and even family dogs and cats. All of our animal relations are wise and highly intuitive, and they wait to guide us.

I am now in my elder years and I walk as both a blue-eyed human with white hair and a blue-eyed white wolf. I see not as one or the other, but as a creature of the forest. I stalk quarry not as me, but as a hunter in kinship with all hunters. I tell a story not from my memory but from a universal spring effusing the common experience of killing and feasting and loving and grieving. I strive to be as detached from identity as the chased deer, with the last thing on her mind being the name of her pursuer. All that matters is the terror of the hunt and the lust for another tomorrow.
Real stories from the real world, simple and complex at the same time, and well worth pondering!

— Bill McKibben, author of the bestsellers The End of Nature and Eaarth: Making a Life on a Tough New Planet




A marvelous book written by a master storyteller and tracker. Through its powerful and poignant stories, you will feel absorbed in the world and spirit of Nature.

— Joseph Cornell, author of Sharing Nature With Children and John Muir: My Life with Nature




"What I like about Tamarack's book, Entering the Mind of the Tracker is that it points to the wisdom of asking questions rather than having answers."



---
---
Song of Trusting the Heart
Sentient Press, 2011
"This ancient yet timeless "Heart-Trust Song" is one of my absolute favorite Buddhist texts and teachings. I recommend it to all my students, reminding them to re-read it constantly, and never stray far from it. You too can find wisdom and delight in this wonderful poem and fine translation."
"Listen to and feel the spirit of these sacred verses. They are currents of homecoming, reminders of the vast beauty and mystery that is our essence."




Nautilus Gold and Silver Award Winner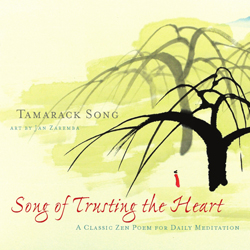 The poem Hsin-Hsin Ming, or Song of Trusting the Heart, was written in the sixth century by the third Zen patriarch of China. Enlivening the spirit without overwhelming the mind, it is considered by many to be the most elegant, concise, and penetrating expression of Zen's essence. Its haunting verses inspire a peaceful awakening that helps one see through attachments, judgments, and illusions.

Tamarack's rendition updates this beloved text's language to make it accessible to contemporary seekers. Each stanza is illustrated with a captivating brush painting by sumi-e master Jan Zaremba to create a beautiful and easy-to-use meditation guide for the 29-day lunar month. This is a tool for reflection on the most profound aspects of life, especially for people who may have limited time for contemplation. Each day's stanza cuts through the mind's clutter, bringing clarity and guidance.
"For 97% of the time humankind has existed, we have organized ourselves into small, cooperative, extended families, and we have lived in balance with our environment. In the very brief span of our hierarchical, industrialized existence, we have systematically destroyed a good portion of the very world that sustains us. In addition, we have created what I find to be the most sinister of human conditions: chronic loneliness. I believe this to be the root cause of much of our personal and social malaise, including crime, depression, and suicide.

One approach to our problem is to attempt fixing it, and another option is to return to what has worked for us in the past. There is yet another way, which rather than a choice between this and that, is to reconnect with the essence of what it is to be human."
---
Whispers of the Ancients
University of Michigan Press, April 2010)
"Whispers of the Ancients helps us reconnect with the spirit of story that is a part of all of our heritages. With respect for the wisdom of the past and with an eye toward the cross-cultural links that legends can make between us, Tamarack Song offers a gathering of tales and insightful comments that point the way back to the circle."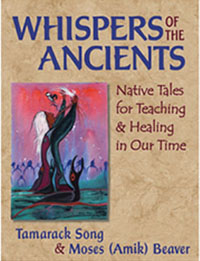 In May 2011, Tamarack travelled to Minneapolis and New York to be recognized for Whispers of the Ancients, which has received the Nautilus Award, three Midwest Book Awards, and was honored as a special storytelling resource by Storytelling World.
When Tamarack first met Moses (Amik) Beaver several years ago, the Ojibwe artist lamented the missionaries who decried Ojibwe traditions and supplanted their epic legends with those of another people. Now some of their stories are returning with the help of Whispers, which they completed together to help restore the oral tradition of the Northern Ojibwe people.
"The West lost its heart when we put aside the stories that have always been our sources of wisdom, of courage, of knowing one's roots, what it is to be a neighbor, a guest, a host. Stories have reminded us who we are and how to become fully who we are.

We thought we must have facts; statistics. The truth. Look where it has gotten us: an imaginary world.

Nobody reminds us that facts change. Life changes. What we need to be human is...principles. We need wisdom. We need to learn living with others, and that may require delicate negotiations, where wisdom and courage mean survival. We have become so used to being taught that we have forgotten learning.

We learn from listening to stories like those in Whispers of the Ancients. In a world that forgets yesterday to make the same horrendous mistakes today, we need to be reminded that long ago we knew how to live because we grew up with stories."



It's easy to imagine yourself transported back to a time when an Elder might have told stories like those in Whispers of the Ancients around a glowing hearth. Thanks to the combined artwork of Moses (Amik) Beaver and Tamarack Song's storytelling skills, monsters, heroes, and shapeshifters come alive and open a doorway to the mysteries of life. Easily accessible to all ages, this is a book that speaks to each person at his or her own level of comprehension and need. It is as beautiful to read as it is to look at.
Stunning Aboriginal artwork by Moses (Amik) Beaver combines with provocative storytelling to renew, in all their traditional splendor, exceptional legends from around the world. Entertaining, profound, passionate, glorious---these are stories that illustrate and evoke themes common to everyone's life, with an ancient wisdom that helps the listener to cope with today's opportunities for tenderness, grief, passion, and irony.
Easily accessible to all ages, this is a book that speaks to each person at his or her own level of comprehension and need.
AWARDS

More ways to get to know Whispers of the Ancients:



Nautilus Gold:
Multi-cultural/Indigenous Works




Three Midwest Book Awards:
Culture, Social Studies, and
Coffee Table Books categories


Storytelling World awarded Whispers as a Special Storytelling Resource

Whispers of the Ancients is available from your favorite bookseller, or you may order it from the Teaching Drum Outdoor School. If you'd like to know more about the book, you can listen to an interview here.
---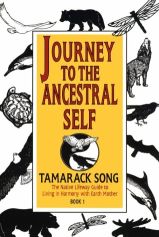 Journey to the Ancestral Self
Station Hill Press, 1994

In this day, few of us seem able to declare that we are truly and deeply happy. We find ourselves frustrated with life as we know it and on a quest for life as it could be. We thirst for a more intimate physical and spiritual relationship with The Earth, and yearn for the skills to do so. Our senses and intuitions are not as keen as we know they could be; our personal Lifepaths seem clouded and distorted. Somehow our search brings us to explore Native lifeways, for which this book is a timely guide. From its deep philosophy to its everyday yet vital sensitivities and awarenesses, the ways of our Ancestors are explored and experienced. We learn the skills for walking in Balance in the Wilderness, as well as in our daily lives. And we are given the tools to discover the purpose and contentment that is uniquely intended for each of us.
"There is deep wisdom in this book, written by
someone who walks his talk in a beautiful way.
Take some quiet time with it, and use it well"
Brooke Medicine Eagle
author of Buffalo Woman Comes Singing

"It awoke in me a yearning to search for my own cultural spiritual being that has long been denied me."
Fay Moseley
Australian Aborigine, director,
Gandangara Aboriginal Land Council

"A workbook for rediscovering and rebecoming our once naturally balanced selves... Refreshing, inspiring and studious... To be used over and over, then passed along to others."
Jim Riggs
Aboriginal skills instructor
author of Blue Mountain Buckskin

"It will inspire seekers and potential Warrior Guardians to take up the cudgel of truth and life... A 'how to' for a path of life."
Heart Warrior Cosa
Ojibwa/Cree/Lakota,
author of Seven Chalk Hills

"...truth about the planetary heart...a pathway to remember ancient knowledge."
Barbara Hand Clow
Panther Band, Cherokee
author of Eye of the Centaur
"...gems of wisdom and keen observation, and writing that might rank as poetry."
Rhonda Gilman
author and senior research fellow,
Minnesota Historical Society


"A real landmark... splendid illustrations."
Keewaydinoquay
Ojibwe elder and herbalist,
author of Direction We Know: Walk in Honor



Contributions
---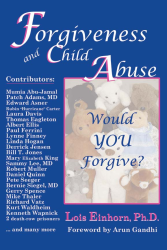 Introduction, chapter, and endorsement for Forgiveness and Child Abuse, by Lois Einhorn, Ph.D., (Robert D. Reed Publishers, 2006).
Dr. Einhorn suffered extreme physical, emotional, and ritual sexual abuse as a child, at the hands of her parents. She brings that story to us and asks, "If you were me, would you forgive your parents?" The rest of the book is comprised of the responses of 53 well-known and respected people, such as Daniel Quinn, Pete Seeger, Hurricane Carter, Bernie Siegel, Patch Adams, and Arun Gandhi, along with Tamarack.
This book is an indispensable healing companion for anyone who has suffered abuse of any kind, as well as a potent healing guide for professionals who work with abuse victims. The author was awarded 2004 Heroine of Forgiveness, Reconciliation, and Peace by the World Forgiveness Alliance.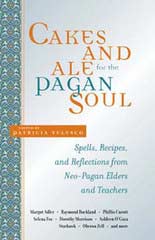 Chapter entitled "The Gifting Way, How Abundance Came to Me," in Cakes and Ale for the Pagan Soul: Spells, Recipes and Reflections from Neopagan Elders and Teachers, edited by Patricia Telesco, (The Crossing Press, 2005).
Edited by Patricia Telesco, and with contributors who represent a who's who of community leaders, including Margot Adler, Starhawk, Dorothy Morrison, Oberon Zell-Ravenheart, and many more. Take a seat on the communal hearth and let these bards regale you with tales of hope, transformation, love, struggle, and victory. The bounty herein will fill you with warmth, sustenance, and inspiration that every spiritual seeker needs.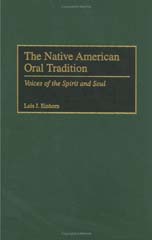 Forward for Lois Einhorn's The Native American Oral Tradition: Voices of the Spirit and Soul, (Praeger Publishers, 2000).
Einhorn, a rhetorical scholar, explores the rich history of the Native American oral tradition, focusing on stories, orations, prayers, and songs. Because American Indians existed without written language for many generations, their culture was strongly dependent on an oral tradition for continuity and preservation. Not surprisingly, they spent many hours perfecting the art of oral communication and learning methods for committing their messages to memory. Einhorn thoroughly examines the important aspects of this unique oral tradition from a rhetorical perspective, covering individual speakers, nations, and time periods. In the first half of the book, the author examines how the Native American oral tradition has affected their cultural assumptions, principles, values, beliefs, and experiences. These chapters focus primarily on characteristics of the Native American oral tradition that transcend individual nations. The second half of the book includes translated transcripts of representative speeches, stories, prayers, and songs. In accessible and compelling prose, Einhorn discusses the sanctity of the spoken word to Native Americans, concluding that their oral tradition helps to account for the survival of their people and their culture.
Articles
---
The following is a partial listing of my published articles. In addition to these, Tamarack has been a field editor for Wilderness Way magazine since 2005, and the magazine has carried his two regular columns, Wilderness Way Tips and Awareness Quiz, for the past eight years.
"Stage Foraging: How to Save Yourself from Starving," Wilderness Way, Vol. 13, Issue 2, 2007

"How to Learn Tracking From One of Our Greatest Predators," Wilderness Way, Vol. 12, Issue 1, 2006

"Our Ancestral Diet: A Way to Wellness," Conscious Choice, March 2001

"How to Chew the Fat," Wilderness Way, Summer, 2001

"Scent Tracking: You Ain't Nothing but a Hound Dog," Conscious Choice, September 2000

"Scent Tracking: You Ain't Nothing but a Hound Dog," Wilderness Way, MWinter 2000

"Wolves at my Door: The Saga of Three Wildlings on Their Troubled Way Home," Conscious Choice, August 2000

"Solo Survival Shelters," Wilderness Way, Summer 2000

"How to Cure a Stick," Wilderness Way, Summer 2000

"All Winter Snow Lodges: Two Easy, Safe Designs," Wilderness Way, Spring 2000

"Frogs: Princes Few, Yet They Can be a Royal Feast," Wilderness Way, Winter 1999

"Root Lashing: Time Saving Alternative to Cordage," Wilderness Way, Winter 1999

"The Landed and the Native: Why Have the Twain Ne'er Met," Conscious Choice, June 1999

"To Deet or not to Deet: Natural Mosquito Charms and Chasers," Conscious Choice, May 1999

"To Deet or not to Deet: Natural Mosquito Charms and Chasers," Illinois Times, May 17, 1999

"Music - The Voice," Maine Well-Being, June 1997

"Children: Our Guardianship," Lotus, Winter 1995

"The Empowerment of Prayer," Seeds of Unfolding, Vol. 1 1995

"Elders - Keepers of the Ancestral Voices," Sunrise, Theosophic Perspective, August/September 1995

"The Old Way Culture," Sunrise, Theosophic Perspective, October/November 1993

"The Old Way Culture," Source Book for the Community of Religions, 1993