Appearances
Wolf Tracking 2012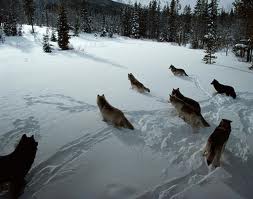 Tamarack and the Teaching Drum Outdoor School, in partnership with Wilderness Awareness School, hosted a week-long Wolf Tracking Course in February 2012. Six days of tracking in the Northwoods with author and tracker Dave Moskowitz, Adrian Wydeven of the Wolf Recovery Project, and the DNR's Ron Schultz. Read more here, and see local news coverage of the event below:
Bioneers Conference 2011
Tom Elpel and Tamarack were the keynote speakers at the 8th annual Bioneers in Alaska Conference, held October 14 - 16 at the University of Alaska-Anchorage. Some dynamic people attended, along with great workshops on adapting to a changing planet. Tamarack's presentation was on what it is to be human. See Tamarack's blog and the Bioneers site for reports on the event.
Articles About Tamarack
"Four Are Surviving Year In The North Woods Wild\Wilderness School Students Endure The Bitter Cold As They Live Off The Land" Wisconsin State Journal, Ana Davis, March 2, 2008 [Scanned version with pictures]
"School takes students back to basics of living: Immersion course shows how to live off land for months" Milwaukee Journal Sentinel, Meg Jones, March 25, 2006

"Song of the Wilderness" Milwaukee Journal Sentinel, Peter Maller, August 24, 2000

Interviews
Tamarack was the featured author for the month of May at the University of Michigan Press. Along with a transcribed Q&A with Tamarack, you can listen to his latest interview on a featured podcast about Whispers of the Ancients
Download a pdf transcript of an interview on his newest manuscript, Song of the Track
Black Oak Media featured an interview in their Spring 2008 issue
Listen to an interview with Tamarack on Wisconsin Public Radio [Transcript]


Television
True Life (MTV): The show, taped in the summer of 2008, follows two students through the year-long Wilderness Guide Program. The show aired on Sunday, October 5, 2008. View the trailer on YouTube, or view the full episode in 5 parts via MTV video on demand, and MTV's photo gallery
Canadian Broadcast Corporation: Taping for a documentary on the Wilderness Guide Program was done in the summer of 2008. View the streaming video and viewer comments on CBC News Sunday
Wisconsin Public Television (Outdoor Wisconsin) filmed a program on the Wilderness Guide Program in 2002